Call 828-645-3899!
Welcome to Animal House Pet Spa!
Weaverville's finest pet grooming spa!
Michelle Smith, owner & groomer, has made Animal House Pet Spa a place where pets can relax while they are getting groomed.
Special care is given to each furkid!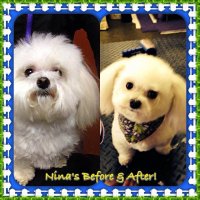 All Natural Products for Dogs, Cats, Kittens and Puppies

A Variety of Facial Cleansers Including a New Hypoallergenic One

Leave in Conditioning Treatments with Acai & Pomegranate

Mud Bath Conditioner

Hot Oil Skin and Coat Treatment

Relaxing, Moisturizing, Deep Cleansing and Soothing Pawdicures
Calming Music & Pet Atmoshpere
A Comfy Couch To Lounge On
Breed Specific, Custom Cuts & Cat Grooming
Call 828-645-3899 to schedule your appointment today!
That number again is 828-645-FUZZ!
http://animalhousepetspa.com/ | Saved Friday, October 6th, 2017 - 8:12 AM